Air France-KLM is buying 31% of Virgin Atlantic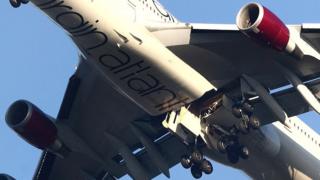 Air France-KLM is buying almost a third of Virgin Atlantic, leaving Sir Richard Branson's parent company, Virgin Group, with a minority stake in the airline he founded.
Air France-KLM is taking a 31% stake, worth £220m, in Virgin Atlantic as part of a four-way joint-venture with US partner Delta.
Virgin Group's share will fall from 51% to 20%, while Delta will retain 49%.
Sir Richard said he would remain "very much involved" after the deal.
He said in an open letter that the new joint-venture would benefit the airline, customers and the brand.
Competition for transatlantic business has been intensifying with newcomers such as Norwegian and British Airways' Level entering the market.
In a joint press Virgin and its partners said the airlines would offer "convenient flight schedules with competitive fares and reciprocal frequent flyer benefits, including the ability to earn and redeem miles across all carriers".
The enhanced joint-venture would offer 300 transatlantic flights per day, it said.