Amazon profits are sharply lower as it invests overseas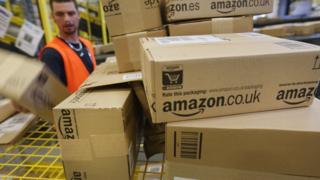 Amazon's sales continued to grow in the second quarter, but rising expenses took a large bite out of profits.
The e-commerce giant earned $197m in profit in the three months to the end of June, less than a quarter of what it took home in the same period of 2016.
The fall came as the firm pursues expansion overseas, while investing heavily in new products and services, including video.
Expenses increased to $37.3bn, up 28% year-on-year.
Amazon is known for ignoring profits and opting to spend on expansion.
But the increase still took investors by surprise. Share prices fell 2% in after-hours trade.
'Heads down'
The firm said sales remained strong.
Consumer retail sales in the three months to the end of June climbed 27% in North America and 17% overseas, totalling $34.9bn.
Revenues at its critical web services division, which sells cloud computing services, jumped 42% to $4.1bn.
"Our teams remain heads-down and focused on customers," said Amazon founder Jeff Bezos.
Earlier on Thursday Mr Bezos briefly became the world's richest man, overtaking Bill Gates as Amazon's share price rose.
But he relinquished the title as Amazon's shares slid lower over the course of the day.