Hurricane Harvey: US petrol prices rise as key pipeline shut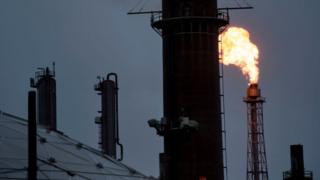 US petrol prices have risen after a key network of pipelines was shut in the wake of Hurricane Harvey, sparking fears of a squeeze on fuel supplies to major US cities.
The hurricane has already forced the closure of nearly a quarter of US oil refining capacity.
Colonial Pipeline said it was closing its pipelines delivering diesel, petrol and aviation fuel to the North East.
European traders are scrambling to provide additional supplies.
The threat of a fuel supply crunch has grown as key infrastructure is paralysed by the storm; Colonial's announcement indicates the knock-on effects are growing.
The firm's network of pipelines is the country's largest supply system, taking refined fuel from the Gulf of Mexico to consumers in major US cities including New York, Atlanta and Washington DC. The company did not given any indication when the pipelines might reopen.
Colonial issued a statement on Wednesday announcing its diesel and aviation fuel pipeline was closing immediately and that its petrol, or gasoline, pipeline would be closed from Thursday because of outages at pumping points and a lack of supplies from refiners.
The company said its facilities between Lake Charles and Houston were out of service. Of the 26 refineries that connect to the Colonial system, 13 are located between Houston and Lake Charles, it said.
"Once Colonial personnel can safely access these facilities, we will evaluate and provide an estimate of the time necessary to ensure our pipe, pumps, tanks and related infrastructure are safe to resume operations between Houston and Lake Charles," the statement said.
Colonial, which in normal times supplies more than three million barrels of fuel a day, was the second major pipeline network to announce it was closing. The Explorer Pipeline, which has a much smaller capacity of 660,000 barrels a day, also said on Wednesday it was shutting down its supply line which runs from Houston to Tulsa, Oklahoma.
US fuel prices have risen by more than 10 cents a gallon compared with a week ago, to nearly $2.45 on average nationwide, according to the American Automobile Association, amid reports that some East Coast refineries are running out of petrol.
Traders in Europe were reported to be rerouting petrol supplies to the US, but it was not certain they would be delivered in time to avert a crunch over the Labor Day weekend.