India's growth rate has slowed as new sales tax confuses firms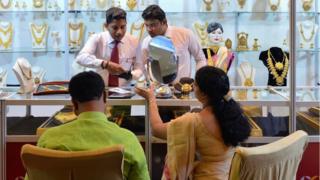 India's economy grew at a slower than expected 5.7% during the last quarter, its lowest rate for three years.
In the previous quarter growth was 6.1% and most analysts had predicted it would strengthen in the three months to the end of June.
The economy was expected to bounce back after the government's crackdown on black market cash last year.
A new tax on goods and services from 1 July has also held back growth by causing confusion for some firms.
The shock to India's economy of the sudden decision last November to withdraw 500 and 1,000 rupee notes from circulation has eased, prompting some analysts to predict stronger growth this quarter.
However the launch of a new "goods and services tax" has disrupted sales for some firms who found ambiguous rules left them unsure over how to price their products.