Ofsted to publish critical report on training provider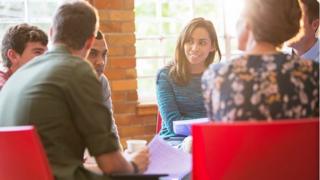 A damning report on the adult training and apprenticeship provider Learndirect Ltd will be published on Thursday, the watchdog Ofsted has confirmed.
An injunction obtained by Learndirect against the publication of the critical report was lifted on Monday.
The Ofsted report is understood to raise concerns about the management of apprenticeship study and high levels of students not completing their courses.
The company said it was "extremely disappointed" with the verdict.
It is understood the company, based in Sheffield, was awarded the lowest possible grade – grade four – by inspectors.
'Ineffective' management
According to reports passed to the BBC by the trade newspaper FE Week, which was in court, the Ofsted report says the "management of apprenticeships is ineffective".
It says about one in every three of the apprentices did not receive their entitlement to off-the-job learning, failing to develop the skills required to progress to the next step in their career.
The court also heard concerns about the proportion of apprentices who did not complete their apprenticeship on time, which has been increasing "steadily over the past three years".
In a statement, Learndirect said: "Learndirect Limited's underlying business remains stable, and we continue to be focused on supporting our learners as usual."
Learndirect, which was privatised in 2011, has more than 70,000 trainees on its apprenticeships and training programmes and employs more than 1,600 staff members.
It said it had challenged Ofsted's inspection over concerns that the process did not give a "true reflection" of the company's training quality and performance.
FE Week editor Nick Linford said an Ofsted grade four was extremely serious for a private training provider.
"In these cases, public funding is nearly always withdrawn, and Learndirect indicated in court that they had been told this would happen to them.
"As nearly all of their income would be withdrawn, they said they would likely go bust and over 1,600 people would lose their jobs."
But Mr Linford said learners should try not to panic, as it was not uncommon for a training provider to go bust.
"The government are resourced to support them and find an alternative provider to ensure they complete their course," he said.
"Given Learndirect's published performance figures were so poor and that they were heavily criticised by Ofsted for delivering limited training or skills development, I would actually expect a switching of provider to be a positive outcome for current Learndirect learners."
David Hughes, chief executive of the Association of Colleges, said local colleges would be ready to support those affected.
"The most pressing concern must be for the students and the impact this will have on them," he said.
"Colleges across the country stand ready and able to assist in securing ongoing learning opportunities for those students and apprentices affected."
Report delayed
A spokesman for Ofsted said the inspection had been in the spring, but publication of the report had been delayed initially because of the general election and then because of the court injunction.
He said: "Seventeen inspectors took part in this inspection over four days when they spoke to learners and apprentices.
"Inspectors interviewed employers, apprentices and learners in person and over the phone, reviewed portfolios of work, and looked at progress reviews when they gathered evidence.
"As well as visiting apprentices in their workplace, inspectors also reviewed a wide range of evidence to ensure that both the judgements and inspection grades were secure.
"Ofsted will publish the inspection report about this learning provider on Thursday."
---
What were your experiences of studying with Learndirect? Did you get the workplace training you needed and did you finish your qualification? You can email haveyoursay@bbc.co.uk with your experiences.
Please include a contact number if you are willing to speak to a BBC journalist. You can also contact us in the following ways:
Or use the form below
If you are happy to be contacted by a BBC journalist please leave a telephone number that we can
contact you on. In some cases a selection of your comments will be published, displaying your name as
you provide it and location, unless you state otherwise. Your contact details will never be published.
When sending us pictures, video or eyewitness accounts at no time should you endanger yourself or others,
take any unnecessary risks or infringe any laws. Please ensure you have read the terms and conditions.