UK retail sales growth slows in July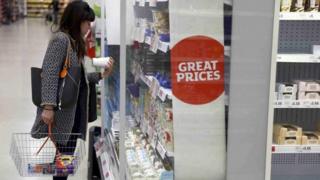 UK retail sales growth slowed in July as consumers cut back on buying most goods other than food, according to the latest official figures.
Sales grew by 0.3% compared with June, the Office for National Statistics (ONS) said.
Strong food sales drove the growth, while most of the other main sectors showed a decrease.
The gap between wages and inflation is continuing to widen, putting pressure on household spending.
In June sales rose by 0.6% against May.
Ole Black, ONS senior statistician, said it was a "relatively subdued picture" in retail sales".
"Strong food sales have been responsible for the growth of 0.3% in July compared with June, as all other main sectors have shown a decrease. Whilst the overall growth is the same as in June, trends in growth in different sectors are proving quite volatile," he said.