HTC shares suspended on Google takeover rumours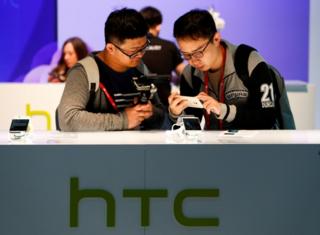 Shares in the Taiwanese smartphone firm HTC will be suspended from trading on Thursday amid rumours Google's parent Alphabet is planning a takeover.
The company issued a statement in response to a report in the China Times, and a request from the Taiwanese Stock Exchange.
It said said it "does not comment on market rumour or speculation".
HTC was once a major player in the smartphone market but has struggled to compete with Apple and Samsung.
Last month there was speculation that HTC was planning to sell its virtual reality unit, Vive, or even the whole company.
Five years ago, HTC was the world's fourth bestselling smartphone maker with a market share of about 9%.
Its share is now less than 1%.
Some analysts have questioned why Alphabet would be interested in buying another mobile phone maker.
Deal benefits
In 2011, Alphabet (then named Google) bought Motorola's Mobility for $12.5bn, only to sell it on three years later.
But a deal with HTC could have greater benefits, as HTC builds Alphabet's own smartphone, the Pixel.
The Pixel uses Android operating software, developed by Alphabet, so the deal could integrate hardware and software, which might be an attractive option.
The deal would also be small change to Alphabet which has around $100bn of cash.
HTC's shares ended Wednesday's session 2.5% higher. The company is worth £1.4bn ($1.9bn).