Ryanair given deadline to obey compensation rules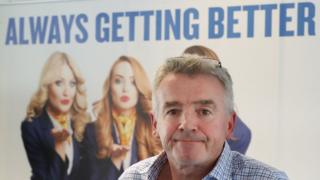 Ryanair has been told to correct its compensation policy for hundreds of thousands of passengers whose flights have been cancelled, by 5pm on Friday.
The UK's Civil Aviation Authority says the airline must stop misleading passengers about the option to be re-routed with another airline.
The regulator has ordered the budget airline to say publicly how it will re-route those passengers.
Ryanair must also say how it will reimburse their out-of-pocket expenses.
Regulator 'fury' over Ryanair law breach
Ryanair: the 34 routes being suspended
Ryanair cancellations: What are my rights?
In addition, the beleaguered airline must promise to help any of the more than 700,000 passengers whose flights have been cancelled in the past two weeks, but who may have chosen an unsuitable option as a result of being misled by Ryanair, the regulator said.
The airline cancelled the flights from now until next March in two tranches saying it had bungled the reorganisation of its pilots' leave arrangements.
On Wednesday, the CAA said that if the airline did not fully comply with European Union rules on providing compensation for cancelled flights then it would take the airline to court, with the possibility of an unlimited fine.