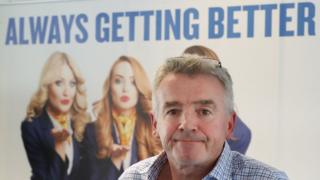 Ryanair has complied with regulator demands and updated its website to explain how it will re-route customers.
The airline says it has emailed all of its customers who were affected by its 2,100 flight cancellations.
On its site it acknowledges it is required to offer customers on cancelled flights a full refund option.
The Civil Aviation Authority (CAA) ordered Ryanair to put the information on its site before 5pm on Friday or face possible action.
This week, the CAA's chief executive Andrew Haines said he was "furious" the airline had not been complying with the law by failing to offer to re-route passengers on rival airlines.
The budget airline said it had taken on more extra staff to process the expected increase in customer claims.
Ryanair's Kenny Jacobs said: "We are committed to processing all such claims within 21 days of receipt and hope to have all such claims settled before the end of October."
Ryanair cancelled up to 50 flights a day through to the end of October, affecting 315,000 passengers.
It then cancelled another 18,000 flights between November and March, affecting the travel plans of another 400,000 passengers.