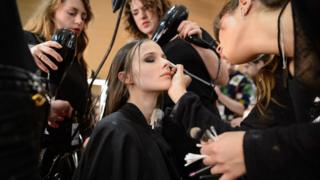 The UK's economy grew at a slower annual pace than previously estimated in the three months to June, according to the latest official figures.
Gross domestic product grew by 1.5% from a year earlier, the Office for National Statistics (ONS) said, down from the earlier estimate of 1.7%.
However, the quarterly growth rate remained unchanged at 0.3%.
Separate figures from the ONS indicated that the UK's key service sector contracted by 0.2% in July.
The ONS said a key factor behind the fall was a drop in activity in the film industry following a particularly strong June.
In the three months to July, the service sector grew by 0.5% compared with the previous three months, which the ONS said was highest quarter-on-quarter growth in 2017 so far.