Volkswagen plans all-electric vehicle range by 2030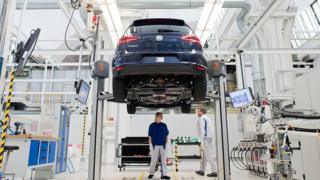 Volkswagen, the world's biggest carmaker, has become the latest to move away from petrol and diesel, saying it will offer an electric version of all its 300 models by 2030.
VW will double investment in zero-emission vehicles to 20bn euros (£18bn) to build factories and develop technology to build the cars.
The German firm plans to offer 80 new electric cars across the group by 2025.
It follows similar moves by BMW, Jaguar Land Rover and Mercedes-Benz.
Volkswagen chief Matthias Mueller said: "A company like Volkswagen must lead, not follow. We have got the message and we will deliver.
"This is not some vague declaration of intent. It is a strong self-commitment which, from today, becomes the yardstick by which we measure our performance."
VW also said it would place orders worth more than 50bn euros for batteries to power the cars.
VW and other German carmakers have faced heavy criticism from the country's chancellor, Angela Merkel, in the wake of the diesel emissions scandal.
In the run-up to this month's election, Mrs Merkel said the car industry needed to regain the public's trust.
VW's move comes as a growing number of countries are announcing plans to ban new diesel and petrol cars.
China, the world's biggest car market, became the latest to signal such a move over the weekend, although it did not set a date.
Both the UK and France have already announced plans to ban new diesel and petrol vehicles by 2040, as part of efforts to reduce pollution and carbon emissions.