DFS profits drop amid 'challenging' market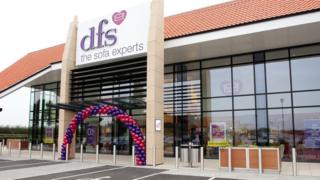 Sofa and living room furniture specialist DFS has reported a 22% fall in full-year profits to £50.1m amid a "very challenging" market.
DFS said uncertainty in the economy had led to a significant deterioration in the consumer market, and continued weakness of the pound against the dollar had also held back profits.
The firm warned investors in June that profits would be lower than expected.
However, it said "we continue to have excellent prospects for the long term".
DFS has been in business for 48 years. Its brands include Dwell and Sofa Workshop, and it also has brand partnerships with French Connection and House Beautiful.
The company said it had been concentrating on broadening its range of customers, and had achieved a 25% share of the "aspirational consumer" market.
It is in the process of taking over rival brand, Sofology, subject to regulatory approval.
DFS chief executive, Ian Filby, said: "We have continued to make good strategic progress across all our key areas of growth, while our financial performance reflects the current challenges of the UK furniture market.
"We continue to have excellent prospects for the long term."