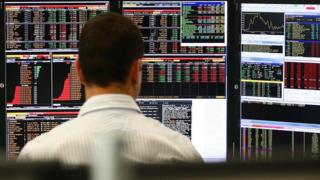 The pound fell against major currencies with analysts blaming the fall on speculation over Theresa May's future.
The prime minster's conference speech on Wednesday was marred by mishaps, and markets are worried that if she fails to remain in power it could lead to a period of political upheaval.
Sterling was down 0.7% against the dollar at $1.3174 and 0.4% lower against the euro at €1.1220.
The FTSE 100 index was up 20.59 points at 7,488.17 shortly after midday.
The index often rises when sterling falls, as the weaker currency lifts the value of companies' overseas earnings when they are brought back to the UK and converted back into pounds.
Weak new car sales was also cited as a factor weighing on the pound. Figures released on Thursday showed sales in September were down 9.3% from a year earlier, which the Society of Motor Manufacturers and Traders (SMMT) said would cause "considerable concern".
Among the biggest risers on the FTSE 100 was theme park operator Merlin Entertainments, which rose 2.6% amid reports it is considering a deal with Seaworld.
Merlin – which runs Legoland parks and owns Madame Tussauds – is understood to be interested in buying parts of Seaworld, although Seaworld would prefer to sell itself whole.
Outside the FTSE 100, shares in sofa specialist DFS fell nearly 4% after it reported a 22% fall in full-year profits, citing a "very challenging" market.