Further tariff of 80% imposed on import of C-Series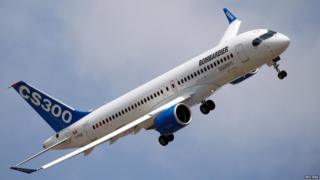 The US Department of Commerce has again ruled against aerospace firm Bombardier in its dispute with rival Boeing.
A further tariff of 80% has been imposed on the import of Bombardier's C-Series jet to the US for alleged below-cost selling.
This is on top of an earlier tariff of 220% which related to subsidies Bombardier got from Canada and the UK.
There have been warnings that the import tariffs could threaten Bombardier jobs in Belfast.
About 1,000 jobs are linked to the C-Series, the wings of which are made at a purpose-built £520m factory in the city.
The programme is not just important to Bombardier jobs in Belfast, but also to 15 smaller aerospace firms in Northern Ireland – and dozens more across the UK – which make components for the wings.
The US Department of Commerce rulings, which could more than triple the cost of a C-Series aircraft sold into the US, could jeopardise a major order placed last year from US airline Delta.
A final ruling in the case is due until early next year.
In a statement Boeing said:"Today's decision follows a fact-based investigation by the Commerce Department and it validates Boeing's dumping complaints regarding Bombardier's pricing in the United States.
"This was an avoidable outcome within Bombardier's control. The laws governing global trade are transparent and well known."
The U.S. Secretary of Commerce Wilbur Ross said: "The United States is committed to free, fair and reciprocal trade with Canada, but this is not our idea of a properly functioning trading relationship".
"We will continue to verify the accuracy of this decision, while do everything in our power to stand up for American companies and their workers."
The Canadian aerospace firm employs more than 4,000 workers across four sites in Northern Ireland.
Components of the C-Series jet are manufactured at a purpose-built factory in east Belfast and many other local firms are involved in the supply chain.
The punitive tax would significantly raise the price of the jet in the US market, and threaten the future of the product.
Boeing took the case after accusing Bombardier of anti-competitive practices.
It claimed its rival was selling the C-Series jets below cost price after taking state subsidies from the Canadian and British governments.
When the preliminary tax ruling was made last week, US Commerce Secretary Wilbur said: "The subsidisation of goods by foreign governments is something that the Trump Administration takes very seriously."
The US trade commission is due to rule on the Department of Commerce's 220% tax proposal next year, but ISME said the EU should not wait for the final decision.
Its chief executive, Neil McDonnell, said the EU "should signal right now that it will unconditionally, unequivocally and aggressively oppose protectionist measures by the US with tariffs of like effect".