Hurricanes take their toll on US jobs market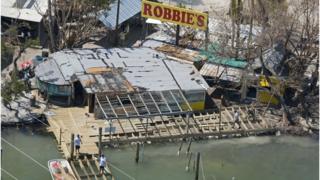 US employment fell in September for the first time since 2010 as hurricanes Harvey and Irma took their toll on the jobs market.
The Labor Department said 33,000 jobs were lost amid a record drop in employment in the leisure and hospitality sector.
It blamed the two storms, which struck Texas and Florida in late August and early September, for the slide.
Economists had expected a rise of 90,000 jobs last month.
However, Harvey and Irma did not affect the unemployment rate, which slipped to 4.2% – the lowest since February 2001.
The estimate of the total number of jobs created in August was revised up by 13,000 to 169,000.
Ian Shepherdson of Pantheon Macroeconomics said: "We expect the recovery to begin in October, but if Katrina is any guide the big rebound won't come until November."
He believed the "soft" payroll total would be ignored by the Federal Reserve: "Unemployment is what matters, and this report therefore makes a December rate hike even more likely."
Average hourly earnings rose 0.5% from August and have now risen 2.9% over the past 12 months.
ThinkMarkets analyst Naeem Aslam said the earnings figure was of more interest to traders: "This shows that job market slack is fading."