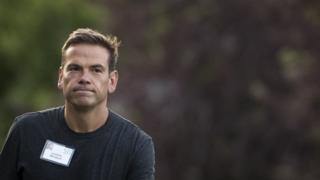 The executive chairman of 21st Century Fox has said the firm is big enough to compete in a shifting media landscape.
Executive chairman Lachlan Murdoch made the remarks after reports that the Murdoch family had talked about selling parts of the business to Disney.
Mr Murdoch would not address that possibility directly but he said the firm is well-positioned now.
He said the firm has an "unparalleled global footprint".
Possible sale?
CNBC reported this week that Disney had approached Fox about a possible deal for its entertainment business, including Sky.
The goal would be to create a company that can compete as newer firms such as Netflix and Amazon become bigger content creators. Those talks are no longer ongoing, CNBC said.
Lachlan Murdoch dismissed the idea that the company is not big enough to compete in a shifting media landscape.
"Fox has the required scale," Mr Murdoch said on an analyst call.
Fox owns Fox News, as well as brands such as National Geographic, Star India and Twentieth Century Fox film.
It is also seeking to take over Sky, in which it is already has a 39% stake.
But that bid is currently being investigated by the UK Competition and Markets Authority.
Sky said this week its news channel may shut down if the approval does not go through.
Fox leaders said they still hope to see that deal completed by mid-2018.
They spoke to analysts after Fox said quarterly revenue increased 8% year-on-year to $7bn.
Gains in advertising and revenues from affiliates helped boost the results, lifting profits to 4% to $855m.