University Hospital, Cardiff 'critical' mortuary failings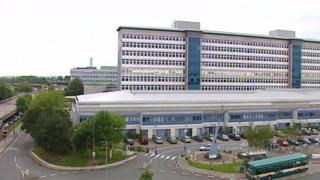 "Significant shortfalls" in standards in mortuary procedures at Wales' biggest hospital have been criticised by a watchdog.
It involves tissue samples at the University Hospital of Wales in Cardiff from 42 post-mortem examinations, ordered by police and coroners across Wales and Gloucestershire.
Samples were kept longer than necessary, in one case for five years.
Cardiff and Vale health board has "apologised unreservedly" to families.
The Human Tissue Authority (HTA) found three critical and 14 major shortfalls in an inspection in August.
The findings involve:
Post-mortem examinations of 42 people, 19 ordered by police as forensic cases and 23 by coroners
Human tissue – involving samples, slides and whole organs – being retained longer than necessary; in the majority of cases one or two years and for one sample, it was five years. The usual time frame would be three months
The organs retained included five brains
Critical shortfalls were found in procedures covering traceability of tissues taken in post mortem examinations, procedures for disposing of tissue as soon as reasonably possible and in auditing
Other failings in 14 major areas and nine minor areas were highlighted
The health board said it was still trying to contact four families and there were two cases where the family's instructions for disposing of materials were unclear.
The designated officer in charge of the licence to undertake the mortuary and pathology work has been replaced and has returned to a clinical role.
Sarah Bedwell, HTA director of regulation, said the inspection had identified "a number of serious issues requiring urgent action".
She said there was still significant work to bring the mortuary back up to an acceptable level of compliance.
A "significant store" of whole organs and tissue samples had built up for which the hospital did not have up-to-date records to ensure timely disposal or to show they were not being kept and used without consent.
Dr Graham Shortland, Cardiff and Vale medical director, said: "We are deeply sorry for any unnecessary distress that the findings in the report may cause.
"We are taking the inspection report very seriously and have had teams of people working on putting right the areas identified."
'Deterioration'
The hospital carries out up to 850 post-mortem examinations each year from all over Wales and the mortuary operates under a licence from the HTA.
The latest findings follow a similar critical inspection eight years ago.
Although a 2012 inspection was positive, the health board's new chief executive Len Richards admitted there had been a deterioration.
"Disappointingly they've found this, it shouldn't have been here, it's unacceptable… but it can be put right," he said.
Health Secretary Vaughan Gething said he and his officials had been in discussion over the past few weeks with the health board, which had been "actively working" to address the issues.
"I am deeply disappointed in the failings identified and there is still further work required to ensure the site is fully compliant," he said.
"All NHS chief executives have been reminded of health boards' responsibilities in relation to compliance with the Human Tissue Act 2004, its associated regulations, codes of practice and standards."
Post mortem examinations were suspended for a month at the University Hospital in 2009, after the HTA highlighted problems in procedures, facilities and equipment.
The then Cardiff and Vale health trust were said to have made "great improvements" within six months. South Wales Police decided to take no action.
The case of a former Pembrokeshire merchant seaman, Richard Hughes, 48, who died of multiple injuries after falling while on a night out in Goodwick 10 years ago, also came to light at this time.
His family discovered by chance, after the inquest in 2008, that his brain had been removed at a post mortem examination at the Cardiff hospital and never returned.
Cardiff and Vale health trust said there had been "inadequate communication" between the University Hospital of Wales' pathology department and the Pembrokeshire coroner.
The health board has said any family which believes it might be affected can call 0800 952 0055.