Byron rescue deal backed by lenders and landlords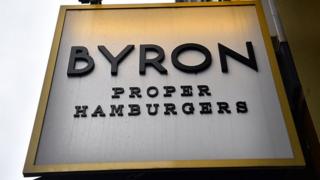 A rescue plan for Byron, the struggling burger chain, has been backed by its lenders and landlords.
The company voluntary arrangement (CVA) will allow the firm to get cheaper rent on some stores and close loss-making restaurants.
The rescue deal, which takes effect on Thursday, means as many as 20 outlets could close.
Accountancy firm KPMG, which is handling the restructuring, has said no restaurants will close immediately.
Employees, suppliers and business rates would continue to be paid on time and in full, KPMG has said.
For the CVA is to be agreed, the burger chain's plans needed at least 75% backing from creditors, which included landlords, and 99% voted in favour.
Byron employs about 1,800 staff.
The CVA proposes that 51 Byron sites keep the same rental costs, and five would have their rents reduced by a third.
A further 20 would have their rents reduced by 45% for six months while the group negotiates with landlords over the future of those sites.
Mark Edwards, a partner at accountants BDO, argued that Byron had expanded too quickly.
"There is always a risk some of those sites will be marginal. However, the sector as a whole is struggling," he said.
"There are some operators that are more successful than others such as Honest Burger, which has a different take and is London-centric."
---
Restaurants at risk
Aberdeen
Birmingham
Bristol
Camberley
Cardiff
Derby
Gateshead Metro Centre
Glasgow
Harrogate
Hoxton Square
Leicester
Manchester Corn Exchange
Manchester Deansgate
Spitalfields
Store Street, London
Stratford upon Avon
Wandsworth, London
Westbourne Grove, London
Windsor
Worcester
---