Educational support for deaf children 'in disarray'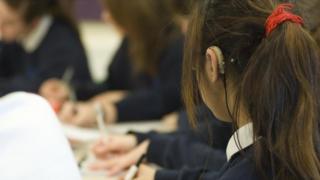 Support for the 45,000 deaf children in England is in "complete disarray" as staffing levels fail to match increased demand, a lobby group has claimed.
Specialist staffing levels have dropped by 14% over seven years, despite a 31% rise in the number of children requiring support, says the Consortium for Research in Deaf Education (CRIDE).
Almost 60% of existing specialist staff are due to retire within 15 years.
Ministers say an extra £223m is being spent on special needs education.
But the National Deaf Children's Society says there has been a "dereliction of duty".
Its CEO, Susan Daniels, urged the government to act: "The evidence couldn't be clearer. From every angle and at every turn, a whole generation of deaf children will have their futures decimated if the Government doesn't act before it's too late."
She added that despite deafness not being a learning disability, deaf children often fell "a whole grade behind their hearing friends at school".
The CRIDE survey of almost every authority in England found that more than a quarter of services employed one specialist teacher for every 80 students.
In some areas there is one specialist teacher for every 100 students.
The figures also revealed that a third of councils are struggling to recruit new specialist teaching staff.
Funding gap
Responding to the CRIDE report, the Local Government Association warned that there had to be "additional funding" from the government to ensure councils meet their legal requirements towards students with additional needs.
Last year, the LGA estimated that the shortfall in children's services budgets would reach £2bn by 2020. State schools are expected to face a funding gap by the same year according to Education Policy Institute analysis.
Cllr Richard Watts, Chair of the Local Government Association's Children and Young People Board, said: "The recent Provisional Local Government Finance Settlement provided no new money for these vital services. The upcoming final settlement must urgently address this.
"If it doesn't, some councils may struggle to meet their statutory responsibilities."
Despite the funding challenges, attainment among deaf students rose to a record high in 2015/16 with 47% achieving 5 A*- C GCSE grades.
The government says it has committed £223m extra council funding to widespread special educational needs reforms in an effort to ensure deaf students "get the support that is right for them".
Robert Goodwill, Minister of State for Children and Families, did not directly address the staffing shortages, but said "most children who are deaf are able to attend their local schools while receiving expert advice, and for those with more complex needs there are specialist deaf schools."