Restore lifetime tenancies to vulnerable tenants, say peers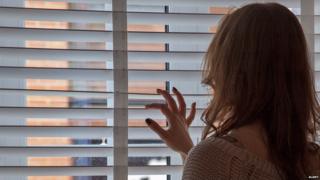 Ministers are being urged to give councils and housing associations back the right to offer lifetime tenancies to those they consider vulnerable.
Peers are debating the issue of lifetime tenancies for those in social housing, which started to be phased out by David Cameron's Tory government.
They will consider proposals to restore lifetime housing rights to those who have suffered domestic abuse.
Council bosses want this to go further and cover other vulnerable tenants.
These may be people with mental illness or disabilities.
In 2015, the last Conservative government legislated for councils to be required to offer all new tenants fixed-term tenancies rather than the lifelong rights of tenancy enjoyed until then.
It argued this was necessary because the lifetime tenancies were not an efficient use of social housing at a time when it was in much demand.
Vulnerabilities
However, the government also suggested social landlords would be given the discretion to continue such tenancies in certain circumstances.
Later, a bill was drawn up which limited this to victims of domestic abuse amid concerns that those subject to violence would be too scared to leave their abusers in case they lost their social housing rights.
During the debate on Tuesday, Lord Porter, chairman of the Local Government Association, will call for ministers to grant councils that discretion.
This should go wider than only victims of domestic violence, he said.
Ahead of the debate, he said: "This Bill will allow councils to continue to offer the best housing support to victims of abuse and protect those who often want nothing more than a safe and secure home to live in.
"It is also an opportunity to give councils the power to set their own categories for granting lifetime tenancies, including for people with serious mental health illnesses and other vulnerable tenants.
"Councils are currently the only landlords who issue secure, lifetime tenancies but our housing crisis is limiting their ability to offer the right tenancies to residents.
"In some areas, housing associations will be the only registered social landlord so it is important to make sure they also offer these tenancies to victims of domestic abuse to offer the widest possible protection."
'Rebuilding lives'
He added that ending the current restrictions on councils' borrowing to invest in housing was the best way to ensure more secure social homes for vulnerable tenants.
The Department for Communities and Local Government would not be drawn on whether its ministers would support the call.
But speaking in December, Communities Minister Lord Bourne said it was his department's priority to support victims of domestic abuse.
"Families with secure tenancies who have made the brave decision to leave an abusive situation should not have to forfeit their right to a home, leaving them at risk of returning to live with the perpetrator.
"That's why we are taking action to enable them to live independently in safety with the opportunity to rebuild their lives."