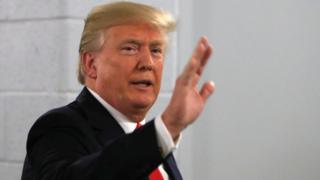 Donald Trump plans to attend the World Economic Forum in Davos – the first sitting US president to attend the annual gathering in almost two decades.
The Swiss mountain village conference attracts some of the richest and most powerful people in the world and has become a byword for the global business interests Mr Trump often attacks.
This year's theme: creating a shared future in a fractured world, appears to clash with Trump's populist rhetoric.
Davos takes place in late January.
His spokeswoman said Mr Trump would promote policies to strengthen "American businesses, American industries, and American workers."
It is unusual for a US president to attend the Swiss retreat.
Ronald Reagan joined the Davos crowd several times – but only via video link.
The first sitting US president to appear in Davos was Bill Clinton in 2000, at the forum's 30th anniversary session. He's been a regular attendee in most years since.
President George Bush – father and son – never came to the village in the Swiss mountains, and President Barack Obama also never appeared at the conference.
President Trump's decision to go is perhaps particularly unexpected, since he has made go-it-alone policies a hallmark of his administration.
'Party of Davos'
Founded in Switzerland in 1971, the World Economic Forum promotes international trade, among other initiatives.
In contrast, Mr Trump has opposed multi-lateral free trade agreements, criticised institutions such as the United Nations and backed out of global treaties such as the Paris Agreement on climate change.
His former adviser Steve Bannon has often derided the "party of Davos" – a term he uses to describe a global moneyed class that does not support national or working class interests.
President Trump recently broke with Mr Bannon, who was quoted in a new book describing a meeting between the president's son and a group of Russians as "treasonous".