German row over car exhaust tests on humans and monkeys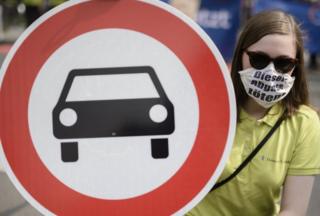 There has been condemnation of experiments funded by German carmakers in which humans and monkeys reportedly inhaled diesel exhaust fumes.
German media say the health impact research was done by EUGT, a body funded by Volkswagen, Daimler and BMW.
Social Democrat politician Stephan Weil – a VW board member – called the studies "absurd and abhorrent".
Daimler also condemned them. VW is embroiled in a scandal over software that gave false diesel exhaust data.
EUGT was dissolved by the carmakers last year. On Thursday the New York Times reported that the EUGT research was designed to counter a 2012 decision by the World Health Organization to classify diesel exhaust as a carcinogen.
It said that in 2014, EUGT had exposed 10 monkeys to fumes from a diesel VW Beetle at a lab in New Mexico.
Then at the weekend Germany's Stuttgarter Zeitung and SWR radio reported that 19 men and six women had inhaled diesel fumes in another EUGT experiment.
During a month of tests at a lab in Aachen, west Germany, they were exposed to various concentrations of diesel fumes, which contain toxic nitrogen oxides (NOx). The BBC has not seen the study itself, but German media say it was published in 2016.
Mr Weil said "this all needs to be investigated". "Lobbying can be no excuse whatsoever for such testing."
Read more on the diesel emissions scandal:
Daimler, manufacturer of Mercedes-Benz cars, said on Sunday "we are appalled by the extent of the [EUGT] studies and their implementation". "We condemn the experiments in the strongest terms."
Reacting to the NYT report about the monkey experiments, VW tweeted on Saturday that it "explicitly distances itself clearly from all forms of animal abuse".
"We know that the scientific methods used by EUGT were wrong and apologise sincerely for this."
A new study by a German car specialist, Ferdinand Dudenhöffer, says levels of pollution from diesel cars are still too high in 10 German cities, so the vehicles are likely to be banned from the pollution hotspots unless engines are upgraded.
According to his research, vehicle software upgrades would not be enough to address the problem. Munich, Stuttgart, Hamburg, Düsseldorf and Cologne are among the cities with serious pollution hotspots.