NHS winter: 12-hour trolley waits hit 1,000 in January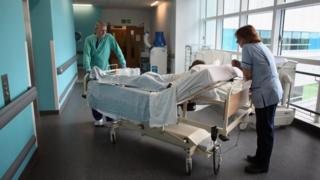 January was one of the most difficult months on record for A&E units in England, figures have confirmed.
This comes despite the mass cancellation of routine treatments to try to relieve the pressure.
The four-hour A&E target was missed for the 30th month in a row with 85.3% of patients seen in four hours, marginally better than the 85.1% in December.
Particular problems were experienced with trolley waits – more than 1,000 patients had to wait over 12 hours.
These are the waits patients who have come to A&E face when doctors decide they need to be admitted into hospital, but they cannot find them a bed.
These tend to be the most seriously-ill patients. Some 81,000 waited more than four hours for a bed – one in five of the 390,000 people who needed to be admitted.
Both the four-hour and 12-hour figures for trolley waits were the worst on record – figures go back to 2010.
But this comes amid rising numbers of A&E attendances.
The data from NHS England shows more than two million patients came to A&E during the month, a rise of more than 5% in a year.
A spokesperson for the Royal College of Surgeons said: "These figures show just how tough it was for hospitals this winter despite cancellation of planned surgery to free up capacity.
"Surgeons and other frontline NHS staff are working tirelessly to provide the best care possible to patients. But today's figures show that these short-term measures are insufficient to meet NHS targets."
Have you experienced delays at A&E? Please share your experience with us by emailing haveyoursay@bbc.co.uk.
Please include a contact number if you are willing to speak to a BBC journalist. You can also contact us in the following ways:
Or comment here:
If you are happy to be contacted by a BBC journalist please leave a telephone number that we can
contact you on. In some cases a selection of your comments will be published, displaying your name as
you provide it and location, unless you state otherwise. Your contact details will never be published.
When sending us pictures, video or eyewitness accounts at no time should you endanger yourself or others,
take any unnecessary risks or infringe any laws. Please ensure you have read the terms and conditions.