University strike talks suspended without agreement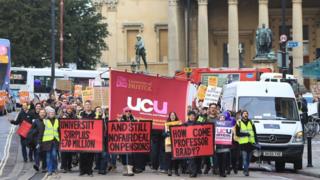 Talks in the university pension dispute have been suspended until Wednesday without an agreement.
The two sides met on Monday at the offices of the conciliation service Acas while strike action continued at 64 universities.
Staff say the pension changes will cost the average academic £10,000 a year in retirement. The employers say the scheme has a deficit of more than £6bn.
About 126,000 students have now signed petitions calling for fee refunds.
Staff at 64 universities are opposed to a plan by the employer's organisation Universities UK for the Universities Superannuation Scheme to change from a defined benefit scheme, giving members a guaranteed income in retirement, to a defined contribution scheme, where pensions are subject to changes in the stock market.
'Constructive talks'
A spokesman for the employers, Universities UK, called the talks constructive and said they were committed to exploring "affordable and viable options to solve this dispute".
The University and College Union has tabled alternative proposals to reform the scheme which it says would involve universities accepting some increased risk and small increased contributions of employers and scheme members.
Some vice chancellors have voiced support for UCU's suggestion – but Universities UK says it would require "very substantial increases in contributions" which would not be affordable.
UCU General Secretary Sally Hunt expressed disappointment that there would be no more talks until Wednesday afternoon.
"We have cleared our diary," she said.
With a further eight days of strikes due to take place before the end of next week, UUK has called on the union to suspend the action while talks continue.
Last week universities minister Sam Gyimah urged institutions to offer compensation to students for teaching hours lost during the dispute.
The dozens of petitions calling for refunds are largely supportive of the strikers.
Kings College London has said it will ring-fence any salary savings as a result of the strike action as a fund which it would use to offset the impact of the strike on students.
A spokeswoman said it was too early to say whether this would mean refunds for all students or a contribution to the student hardship fund.