Wagamama fined for failing to pay the minimum wage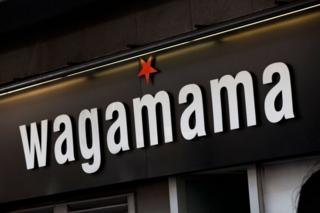 Restaurant chains Wagamama and TGI Fridays have each been fined an undisclosed amount for failing to pay staff the National Minimum Wage.
They were among 43 employers in the hospitality sector on the government's latest list of firms breaking the law.
Wagamama has repaid an average of £50 to 2,630 employees. TGI Friday's had to repay £25 each to 2,300 staff.
Wagamama blamed "an inadvertent misunderstanding" of the rules on staff uniforms for the blunder.
A Wagamama spokesperson said the company had asked front-of-house staff to wear black jeans or a black skirt with their Wagamama-branded top.
This was considered as asking them to buy a form of uniform, "and so we should have paid them for it," the spokesperson said.
"We have gladly made payments to current and previous employees who missed out dating back from 2016 to 2013. We have also updated our uniform policy and we now pay a uniform supplement to cover the black jeans.
"Our people are the heart and soul of Wagamama and we take great pride in supporting and helping them to build their careers with us."
A TGI Fridays spokesperson said the firm had reimbursed team members for a shoe allowance.
The spokesperson added: "This is a historic payment which was paid last year, and we have since reimbursed team members for the purchase of their black uniform shoes."
In total, 179 employers were fined £1.3m by the government for underpaying their staff.
And they were warned that minimum pay rates will increase again on 1 April.
Just before Christmas, Wagamama had to apologise after a note was seen in one of its London restaurants, apparently banning staff from taking sick days.
The hotel chain Marriott was also fined. It underpaid 279 of its staff over £250 each on average.
The company apologised and said it was committed to paying the National Minimum Wage.
"When an error was identified by a routine HMRC audit in 2015, we cooperated fully with HMRC and promptly reimbursed all those affected," a spokesperson said.
"We apologise to all our associates impacted by this error, and have taken steps to ensure it cannot happen again."
In its response to the Matthew Taylor Review of the gig economy, called Good Work, the government has already announced plans to give all workers the right to a payslip.
It said that would make it easier for 300,000 workers to check that they were being paid the legal minimum.
Later this month, the government will launch an awareness campaign for the new minimum wage rates. Employers can be fined up to twice the total wage shortfall, subject to a maximum of £20,000 per worker.