In June, Johnson agreed to pay $25,000 to a Michigan father and son he had accused of having been responsible for the killing of protester Heather Heyer during the Unite the Right rally in Charlottesville, Va., the year before, despite their having nothing to do with the murder. The murder was actually committed by a white nationalist.
That same summer, Freestartr, a site Johnson used to raise money for Nazis and extremists, shut down. GotNews.com, a font of fake news that he ran, also met its demise.
That much is clear from his surprising exchange with Commerce Secretary Wilbur Ross on June 25, 2018.
"Hi Secretary Ross," the markedly informal email sent by Johnson that day begins. "Great chatting with you the other day." Johnson proceeds to say that he would be "speaking before about 30 congressmen on tech issues" in Washington and "would love to meet" with Ross as well.
Ross responded about three hours later, in an email apparently typed from his iPhone. He explained that he had to fly to Wisconsin in order to attend the groundbreaking for a plant opened by Foxconn, the Chinese electronics manufacturer. He urged Johnson to schedule a time for them to meet with Macie Leach, a senior adviser to the commerce secretary.

Yahoo News
"Sounds good," Johnson replied, copying several Commerce officials, as well as another email account belonging to Ross. It is not clear what business Johnson had with Ross, but the subject line of his email was "Tech discussion with Sec Ross."
The puzzling interaction raises questions about why a high-ranking government official would entertain a figure as divisive as Johnson, especially since by late 2018 Johnson's affiliation with white supremacists and other fringe figures was well known. Three years before, he had been booted off Twitter for threatening to "take out" Black Lives Matter activist DeRay McKesson. His fundraising sites welcome campaigns by neo-Nazis like Richard Spencer and Andrew Anglin.
The exchange with Ross came several days after a California superior court rejected Johnson's bid to have his Twitter ban lifted. (Johnson may have found a way around the ban; shortly after an exchange with Johnson, this reporter was followed on Twitter by @charles46532569, an account purporting to belong to "charles johnson." The account followed, and shared messages from, accounts associated with several right-wing figures. Johnson denied to Yahoo News that the account was his, replying with an emoji of a sunglasses-wearing visage.)
Johnson headed to Washington amid these defeats, though it's not known which members of Congress he tried to brief, and on what subject. No evident record of such a meeting exists.
Nor is it known what Ross and Johnson chatted about, though the Department of Commerce does oversee the National Telecommunications and Information Administration. Johnson is one of many right-wing figures to have complained that Silicon Valley is biased against Republicans and conservatives. President Trump has amplified such complaints, raising them recently in a meeting with Twitter founder and chief executive Jack Dorsey.
As for a face-to-face between Johnson and the former corporate raider, it was not to be. "The requested meeting did not occur," said Commerce spokesperson Rebecca Glover. She declined to elaborate, or to answer specific questions about the matter.
"It's concerning that a reputed Holocaust denier is familiar enough with Commerce Secretary Wilbur Ross that he can apparently reach the Secretary via a private email account," said Charisma Troiano, communications director for Democracy Forward, a progressive group that obtained Ross's emails through the Freedom of Information Act. "The public deserves to know why."
Ross's email address is redacted in the documents reviewed by Yahoo News. However, Democracy Forward had specified in its Freedom of Information request that it sought "all communications sent to or from any nongovernmental email address established, controlled, or used by the Secretary of Commerce Wilbur Ross." The back-and-forth with Johnson, therefore, had to have been conducted at least in part via an email address affiliated with Ross but not issued by the federal government.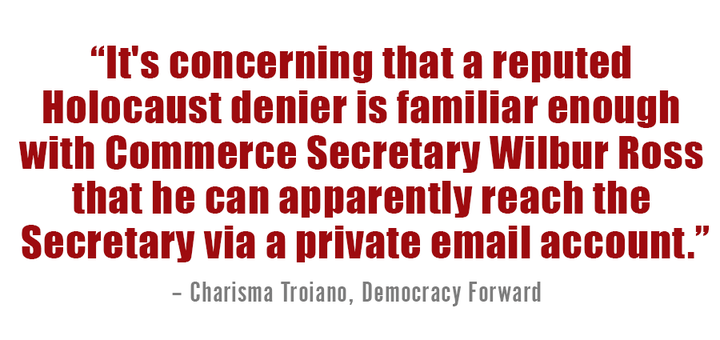 Yahoo News
What, exactly, Johnson and Ross were planning to meet about remains unknown. In a text-message exchange with Yahoo News, Johnson expressed concern that he would be "falsely" accused "of being a troll or worse," which made him hesitant to "engage with the #fakenews." Of his exchange with Ross, Johnson would only say it was "a national security matter."
Johnson referred further questions to his attorney, Ronald D. Coleman.
"Mr. Johnson does not discuss private meetings. He is proud to help his country when he is needed," Coleman replied in a statement.
Johnson reached out to Ross again in October 2018, saying he had "something of international import to discuss." Leach, the senior Commerce adviser, appears to have handled the request, forwarding it from her personal email address to her Department of Commerce one, but nothing came of this second ask.
Ross remains the commerce secretary, though his credibility has been seriously tarnished by his handling of the Trump administration's effort to include a citizenship question on the 2020 census. He is routinely spoken about as on the verge of losing his job.
Johnson's current occupation is unclear, though he told Yahoo News he wants to be called an "entrepreneur." The substance of his present-day entrepreneurial activity is unknown.
Read more from Yahoo News:
REAL LIFE. REAL NEWS. REAL VOICES.
Help us tell more of the stories that matter from voices that too often remain unheard.